The STARS II program provides an intensive research experience for juniors and seniors. Beginning in the spring semester of their junior year and continuing through the senior year, STARS II scholars receive a stipend to support up to ten hours a week of laboratory research under the supervision of a faculty mentor and graduate student(s). During the intervening summer, the program provides stipend support for students to continue their research for up to ten weeks. In the spring semester of their senior year, STARS II scholars conduct a formal presentation of their research at the STARS II Symposium.  All STARS II students are also encouraged to present their research at regional and national science conferences/meetings and submit it for publication.
The Science, Technology, and Research Scholars II Program (STARS II) is a highly selective program. Like STARS I, STARS II is a program designed for Yale College students who have historically been underrepresented in the sciences. These include students of color, women, students from economically disadvantaged backgrounds, first generation college students, and the physically challenged. The program is available to majors in any of the natural sciences, engineering, mathematics or computer science.
STARS II scholars receive a stipend for up to ten hours per week of laboratory research for a total of 26 weeks in the academic year. During the summer, students receive a stipend to continue their research for up to ten weeks, either at Yale University or at another academic or industrial site approved by their mentor and the STARS Academic Team.
In January of their spring term, an official welcome is held for the STARS II juniors and their mentors. Near the end of the spring semester STARS II senior scholars are required to present their final research projects to their colleagues and mentors at the STARS II Research Symposium. This symposium also serves as an opportunity for STARS II junior scholars to see what is expected for their presentations in the senior year.
STARS II students are strongly encouraged to participate in a full range of scientific professional activities, including presenting their research at regional and national scientific conferences/meetings, and submitting their research for publication.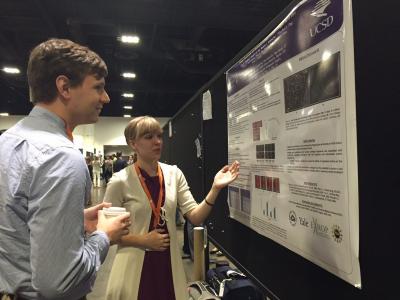 Olga Wroblewski presenting her research at the BMES Conference in Tampa, FL.
Application deadline has passed.
For application questions please contact Donalee Slater at donalee.slater@yale.edu