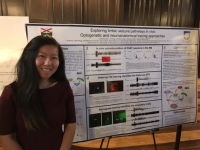 Chanthia Ma, Yale College '17
BS, MCDB (Int)
MD/PhD, Havard '27
STARS II
Chanthia Ma was a STARS II student in Dr. Hal Blumenfeld's lab studying how epileptic seizures disrupt neural pathways to impair consciousness. She graduated from Yale in 2017 and is currently in the Harvard/MIT HST MD/PhD program continuing her passion for academic research and patient care. 
Interview highlights:
"I'm really thankful that I was able to have this opportunity. With STARS II, I was able to get paid for research starting the second semester of my junior year, which allowed me to not take on other odd jobs to support my studies, but rather focus and commit to research. My time in Hal's lab made me realize how much I enjoy basic research. I'm applying to MD/PhD programs so that I can continue with research in the future."
 
Yamile Lozano, Yale College '17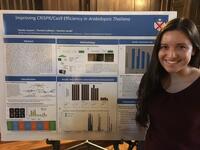 BS, MCDB 
MD, Loma Linda School of Medicine '21
STARS Summer, STARS II
Yamile Lozano worked in Dr. Yannick Jacob's lab on improving the efficiency of the CRISPR/Cas9 genome editing technology in Arabidopsis. She will be going to Loma Linda medical school in the fall of 2017.
Interview highlights:
"STARS helped me by laying the foundations for me to be able to do research. I started in the STARS Summer program the summer after my freshman year and then continued to the STARS II Program in the winter of my Junior year until graduation. While completing my research project, I was able to find mentorship and guidance, which were needed as I applied to medical school. I feel that STARS helped to learn the critical thinking process and inquisition tools that I will be using as I pursue a career in medicine."
 
Amanda Farrell, Yale College '16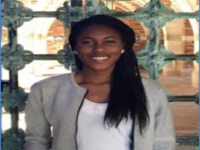 BS, MCDB
MD, Duke School of Medicine '21
STARS I, STARS Summer
Interview highlights: 
"STARS helped me find my place at Yale as a person of color, as a woman, and as a woman in STEM. The STARS program brings students together to create a supportive community. Many feel out of place, and STARS gives them the support to grow and thrive at Yale. These students soon become leaders and mentors for others. As friendships form in STARS and endure after graduation, STARS creates a network of successful leaders across the nation."
"STARS teaches students to think critically – a skill that is essential in class and life. Students have different experiences and often have grossly different critical thinking abilities. STARS provides a means for students to gain this experience."
 
George Ramirez, Yale College '15

BS, Physics
MSEd, UPenn '17
MA, American Studies, GW '19
PhD, Media, Culture, and Communication, NYU'24 
STARS, STARS Summer, STARS I Peer Mentor
 
George credits The STARS Program with giving him the opportunity to experience research for the first time (during STARS Summer). His experience as a Peer Mentor in STARS I allowed George to become an effective teacher for STARS students in his senior year at Yale. After graduating from Yale, George obtained an M.S. in Education from the University of Pennsylvania.  Currently, George is a physics teacher at the Loomis Chaffee School in Windsor, CT.  At Loomis, George also co-runs the Pelican Peer Support Network, a program that "provides cultural, social, and academic support to students in their transition to Loomis."
Interview highlights: 
"I wanted to build a network with other minority students who were also pursuing the same or similar majors and going through the same struggles."
"Very few people understand the struggles of women, 1st generation college students, and minorities in science.  It takes a tremendous amount of support.  The STARS Program would help you get through this."
 
Gabriella Biondo, Yale College '12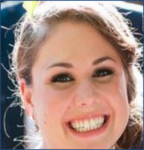 BS, History of Science and Medicine
MPh, Yale School of Public Health '13
STARS, STARS Summer
Having been a member of Dean Lynn Cooley's Lab since her freshman year, Gabriella was well-versed in laboratory research.  However, she thought that the STARS courses and workshops would complement her studies.  She cites that STARS Summer was extremely important in allowing her to develop both oral and written communication skills.
After her MPH, she became involved in clinical research at the Yale Cancer Center but became interested in business management.  She is currently a Performance Associate at Privia Health, "a unique physician practice management and population health technology company that partners with top doctors to keep people healthy, prevent disease, and improve care coordination in-between office visits."
Interview highlights: 
"I was surrounded by strong females, including my research advisor and my STARS graduate student mentor.  They were great examples of mentors and helped me be one as well."
What would you say to a new student that is unsure if they should join STARS or not?
"Do it!  Take advantage and take the Program seriously!"
 
Tom Patrick Howard III, Yale College '12
BS/MS, Biology

PhD, Harvard '19
STARS Summer
Interview highlights:
Did you publish your STARS work in a scientific manuscript or present at a scientific conference?
"My work at Yale resulted in two publications: a first author paper in 2014 and a co-author paper in 2016." (Howard TP, et al. 2014. PLoS ONE; Hayward AP, et al. 2016. Sci Adv.)
What would you say to a new student that is unsure if they should join STARS or not?
"If you are interested in research at all, it's a guided way to get a start and to see if it's right for you. There is a lot of support and people to check in on you, a lot of people to answer questions."