The STARS I Summer Program provides summer term support for select undergraduate students who live on campus and participate in laboratory research with Yale faculty members. Students selected for the program work as full-time research assistants who support the research of their mentor and/or faculty advisor.  In addition, enrollment in SCIE 101 Scientific Research: Process and Presentation and active participation in weekly journal club sessions are required. These sessions provide STARS scholars the opportunity to discuss their individual lab journals as well as other journal article samples selected for the program. At the conclusion of the summer program, each student will submit his or her research results in a written publishable format and will conduct a formal presentation of their research at a public symposium.
Between course work and research, the STARS Summer fellowship will do much to establish the analytical and research skills necessary for academic and professional success. Each summer fellow works with their mentor who will supervise the fellow in substantive laboratory research and expose the fellow to academic life in their specific field.  Mentors and summer fellows are encouraged to meet regularly to assess the progress made as well as to discuss other issues such as academic and career development.
Summer fellows must live on campus in one of the summer residences. The purpose of this arrangement is to foster an exciting and challenging academic environment where summer fellows may come together as a community to exchange ideas and information. The program includes evening activities and occasional weekend trips.
STARS summer fellows are awarded a total stipend of $2,500. The program also covers participants' room and board, as well as the course tuition. Students are not allowed to enroll in any other summer course if they are participating in the STARS Summer Research Program.                                     
Summer Fellow Responsibilities
All STARS Summer fellows must live on the Yale campus for the duration of the nine week program (May 25 - July 24, 2020). Summer Fellows are required to:
Work with a mentor in designing a mutually beneficially research project that will further develop the summer fellow's research and analytical skills;
Write a 6-10 page paper on his/her research project to be presented at the end of the program.  This paper/presentation will be evaluated by the mentor and course instructor.
Present the findings of research projects before all their peers, mentors, and invited guests from the larger Yale community at the Summer Research Internship Program Symposia in July;
Attend and participate in a weekly evening discussion regarding scientific issues. Some reading and preparation is required;
Attend class sessions of the summer course.
Approximately thirty students are chosen to participate each summer.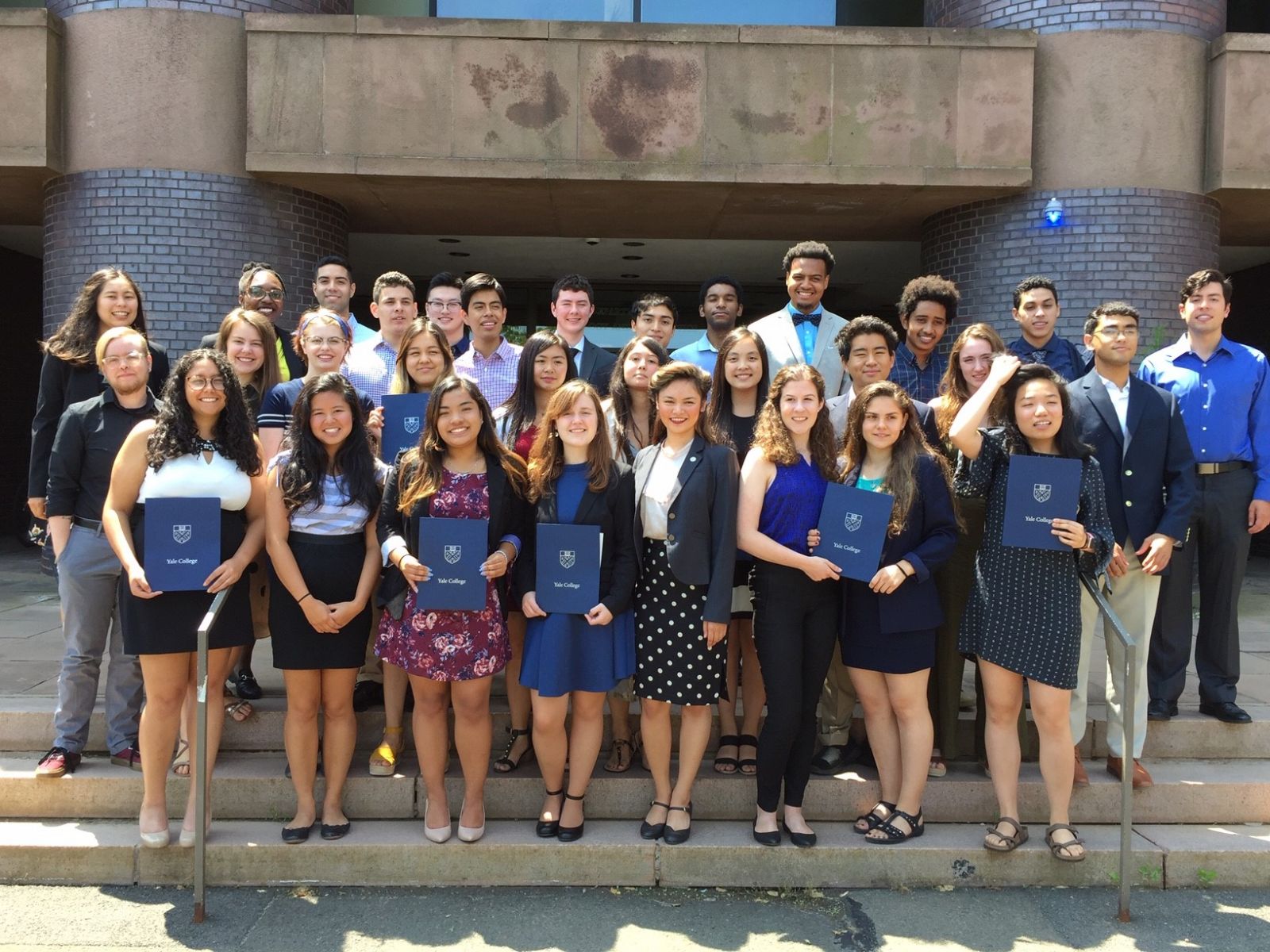 STARS Summer Research Program, Symposium 2019
---
The STARS Academic Team
The Academic Team is responsible for overseeing the STARS Program in its entirety. During STARS I and II, the Team runs workshops and poster presentations every semester. During STARS Summer, the Team runs "SCIE 101 Scientific Research: Process and Presentation" and runs a weekly journal club.
Dr. Kenneth Nelson
Academic Director, STARS Program
Lecturer and Research Scientist in Molecular, Cellular and Developmental Biology
Dr. Maria Moreno
Academic Coordinator, STARS Program
Lecturer and Research Scientist in Molecular, Cellular and Developmental Biology
Dr. Kailas Purushothaman                                               
Advisor, STARS Program                                                                      
Director of Residential College Science/MathTutoring                                    
Lecturer in Mechanical Engineering and Materials Sciences
---
*Applications must be submitted online through the Student Grants & Fellowships database 
STARS Summer Research Program 2020 deadline is Monday, February 3, 2020 at 11:30 pm.
Include a copy of your transcript, including courses you intend to take in the spring. *Unofficial transcripts are acceptable.
Students selected for the STARS Summer Research Program will be asked to submit a research plan by Thursday, March 5, 2020.
The plan must include the following (additional instructions will be provided with award notices):
Background/Significance of your Research (1/2 – 1 page in length)
Hypothesis (1 sentence)
Research Aims (1/2 page in length)
*Failure to submit your plan by the deadline will result in a forfeit of your spot in the program.
The Yale STARS Summer Research Program does not accept applications directly from students enrolled at other universities.
Follow us on Instagram and Facebook!