The Science, Technology, and Research Scholars II (STARS II) program is a highly selective program. Like STARS I, STARS II is designed for Yale College 
women, minorities, socioeconomically disadvantaged, and other historically underrepresented students to pursue studies and careers in the sciences and engineering. 
STARS II provides an intensive research experience for juniors and seniors. Beginning in the fall semester of their junior year and continuing through the senior year, STARS II scholars receive a stipend to support up to ten hours per week of laboratory research under the supervision of a faculty mentor and graduate student(s). During the intervening summer, the program provides stipend support for students to continue their research full-time for up to ten weeks. In the spring semesters of their junior and senior years, STARS II scholars conduct a formal presentation of their research, in the form of a poster or a talk, at the STARS II Research Symposium. STARS II students participate in workshops designed to develop their scientific skills. They are encouraged to present their research at regional and national scientific conferences/meetings, and submitting their research for publication.
 Click for STARS II Symposium Abstracts 2017               Click for STARS II Symposium Abstracts 2018
Eight Yale STARS II students, Carlos Rivera, Mindy Le,  Jannet Rivera, Jared Peralta, Oscar Perales, Pablo Suarez, Alanna Pike and Kevin Salinas, were selected to present their research findings at the 2018 Society for the Advancement of Chicanos and Native Americans in Science (SACNAS) Conference. Kevin, Jannet and Alana won travel awards to this conference, and the Yale College Dean's Office funded the other students' registration, travel and accommodation costs. Jannet, Kevin and Jared won the 2018 SACNAS Student Presentation Awards for Poster presentations. Congrats to all for a job well done!
Rob was able to capture the excitement of the SACNAS experience in this short movie, please take a look. Click here
STARS II Highlights
Welcome Reception in September for the STARS II juniors and their mentors

Academic Year Stipend Support for up to 10 hours per week (up to 13 weeks per semester) of laboratory research during the junior and senior years 

Summer Stipend Support (if required) for full-time laboratory research for up to ten weeks during the summer between the junior and senior years

STARS II Research Symposium for STARS II junior and senior scholars to present their final research projects to their colleagues and mentors

Abstract Writing and Presentation Workshops designed to prepare scholars for the STARS II Research Symposium and other scientific conferences/meetings

Group Activities designed to increase the feeling of community and support among the STARS II junior and senior scholars
---
Meet the STARS II Graduate Coordinator!
  Robert Fernandez
  STARS II Graduate Coordinator
  MB&B Department
Brief Biography
Rob is a Ph.D. candidate student in the MB&B department and 2014 PD Soros Fellow, working in Dr. Michael Koelle's lab studying C. elegans neurotransmitter G-protein coupled receptors.  He currently serves as the graduate coordinator for STARS II and has created an on-line platform to provide minority STEM students with open-access resources, Científico Latino.
 
What piqued your interest in becoming a peer mentor for STARS?
As a Latino scientist, I understand the importance a mentor makes at every step of your career. I would not have gotten to where I am today if it was not for the mentors that have invested in me and encouraged me that there is a place for me in STEM, even when I didn't see any other scientists who looked like me. Having one person believe that you can succeed in STEM makes a difference and I aim to be that person for minority scientists, especially for the STARS II students.
What do you enjoy about working with STARS students?
The best thing about being part of STARS as a STARS II graduate coordinator, is seeing the growth of the students. These students, who initially thought it was difficult to present their research or tackle research papers, have grown in front of me, to the point where they are becoming independent scientists. It is an amazing feeling to see these students be accepted to summer research programs, accepted to give talks at research conferences, getting into medical and graduate schools, and gaining the confidence to know that they belong in STEM.
---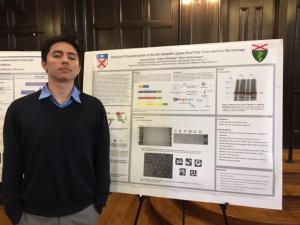 STARS II Symposium 2018
---
Congratulations on your Graduation STARS II Seniors: Amy Chan, Tran Dang, Byron Daniel, Mindy Le, Oscar Perales, Jared Peralta, Alanna Pyke, Carlos Rivera, Jannet Rivera, Kevin Salinas, Stephanie Spear, Pablo Suarez, and Shannon Teaw. Pictured here at the STARS II dinner with Dean Sandy Chang and Graduate Coordinator Rob Fernandez.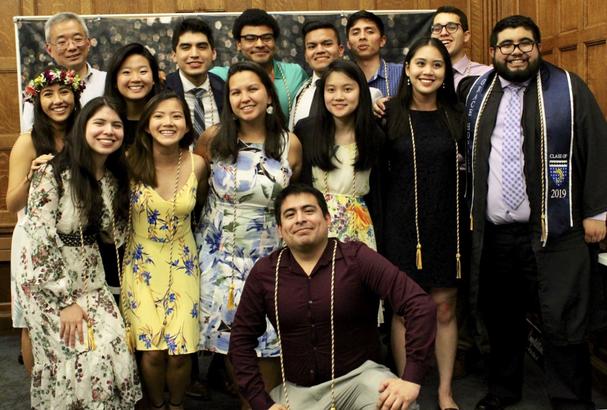 STARS II Senior Graduation Dinner - May 19, 2019
---
Application Information and Info Sessions
For application questions please contact Donalee Slater at donalee.slater@yale.edu
---
Follow us on Facebook!