The Science, Technology, and Research Scholars II (STARS II) program is a highly selective program. Like STARS I, STARS II is designed for Yale College women, minorities, socioeconomically disadvantaged, and other historically underrepresented students to pursue studies and careers in the sciences and engineering.
STARS II provides an intensive research experience for juniors and seniors. Beginning in the spring semester of their junior year and continuing through the senior year, STARS II scholars receive a stipend to support up to ten hours per week of laboratory research under the supervision of a faculty mentor and graduate student(s). During the intervening summer, the program provides stipend support for students to continue their research full-time for up to ten weeks. In the spring semester of their senior year, STARS II scholars conduct a formal presentation of their research at the STARS II Research Symposium. STARS II students are strongly encouraged to participate in a full range of scientific professional activities, including presenting their research at regional and national scientific conferences/meetings, and submitting their research for publication.
Click for STARS II Symposium Abstracts 2016                                   Click for STARS II Symposium Abstracts 2017
---
STARS II Highlights
Welcome Reception in January for the STARS II juniors and their mentors

Academic Year Stipend Support for up to 10 hours per week of laboratory research during the junior (spring) and senior (fall and spring) years (total of 26 weeks)

Summer Stipend Support for full-time laboratory research for up to ten weeks during the summer between the junior and senior years

STARS II Research Symposium for STARS II seniors scholars to present their final research projects to their colleagues, mentors, and the STARS II junior scholars

Abstract Writing and Presentation Workshops designed to prepare scholars for the STARS II Research Symposium and other scientific conferences/meetings

Group Activities designed to increase the feeling of community and support among the STARS II junior and senior scholars
---
Meet the STARS II Graduate Coordinator!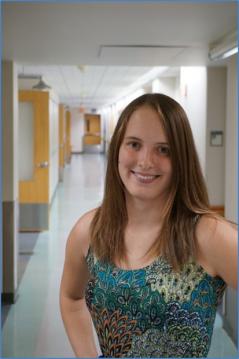 Sara Katrancha
  STARS II Graduate Coordinator
  Neuroscience Department
Brief Biography
Sara is the graduate student in the MBB department working in Dr. Tony Koleske's lab and serves as the graduate coordinator for STARS II students.
What piqued your interest in becoming a peer mentor for STARS?
"Research really only becomes harder when you feel like you don't belong. It's something I've struggled with before and since coming to Yale. Through being involved in STARS, I hope to mitigate those feelings in my students by showing them that there is a whole community of them that are facing similar professional and personal struggles."
What do you enjoy about working with STARS students?
"Watching their personal growth. They have so much empathy and care for each other. Yale can be a competitive place but they realize that helping their fellow peers succeed is not going to diminish their own success in any way."
---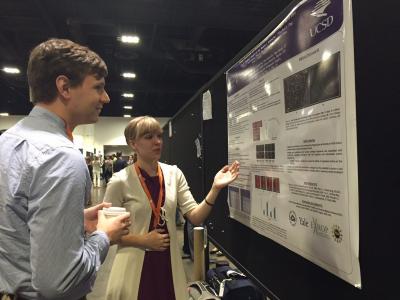 Olga Wroblewski presenting her research at the BMES Conference in Tampa, FL.
---
Application Information and Info Sessions
Application deadline is Monday, November 13, 2017 at 3:00 pm *Along with this application, all students are asked to submit a transcript. Unofficial transcripts will be accepted. Please email as an attachment to sarah.delvecchio@yale.edu. Additionally, we will need all applicants to provide us with a letter of support from the faculty member that he or she will be serving as the mentor for your research project. The letter should confirm that they will be serving in this capacity as well as describe the plan of mentorship they have for you (i.e., 'How they will be supporting or working with you'). This letter should be emailed to sarah.delvecchio@yale.edu 
For application questions please contact Donalee Slater at donalee.slater@yale.edu
---
Follow us on Facebook!